Daggan (+18)
I have a lot of concept arts to show, and I'll let you discover which ones made it into the game with the next update UwU

This is Halloween
For the occasion I let my patrons choose their favourite design for a hidden boss!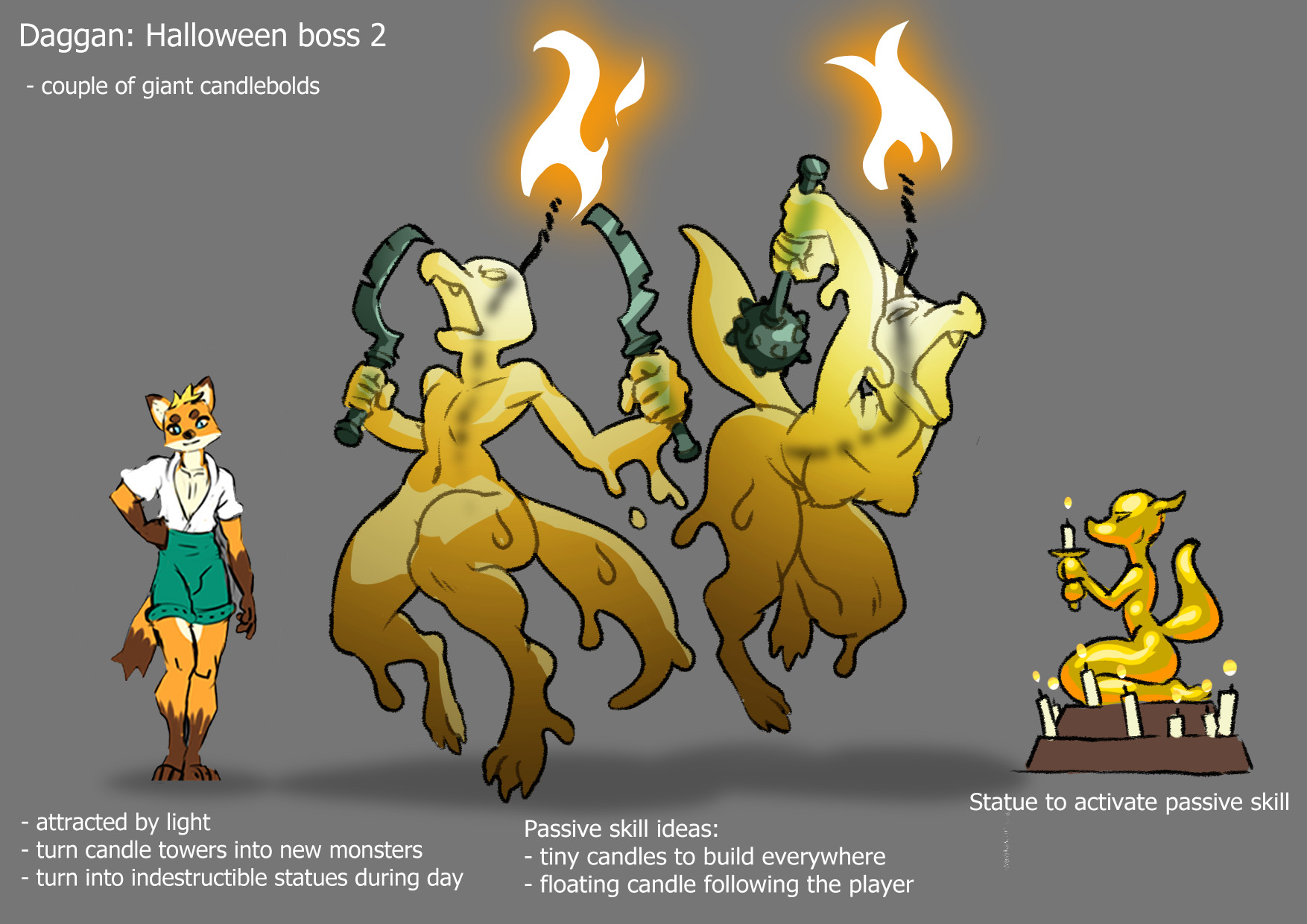 Points of interest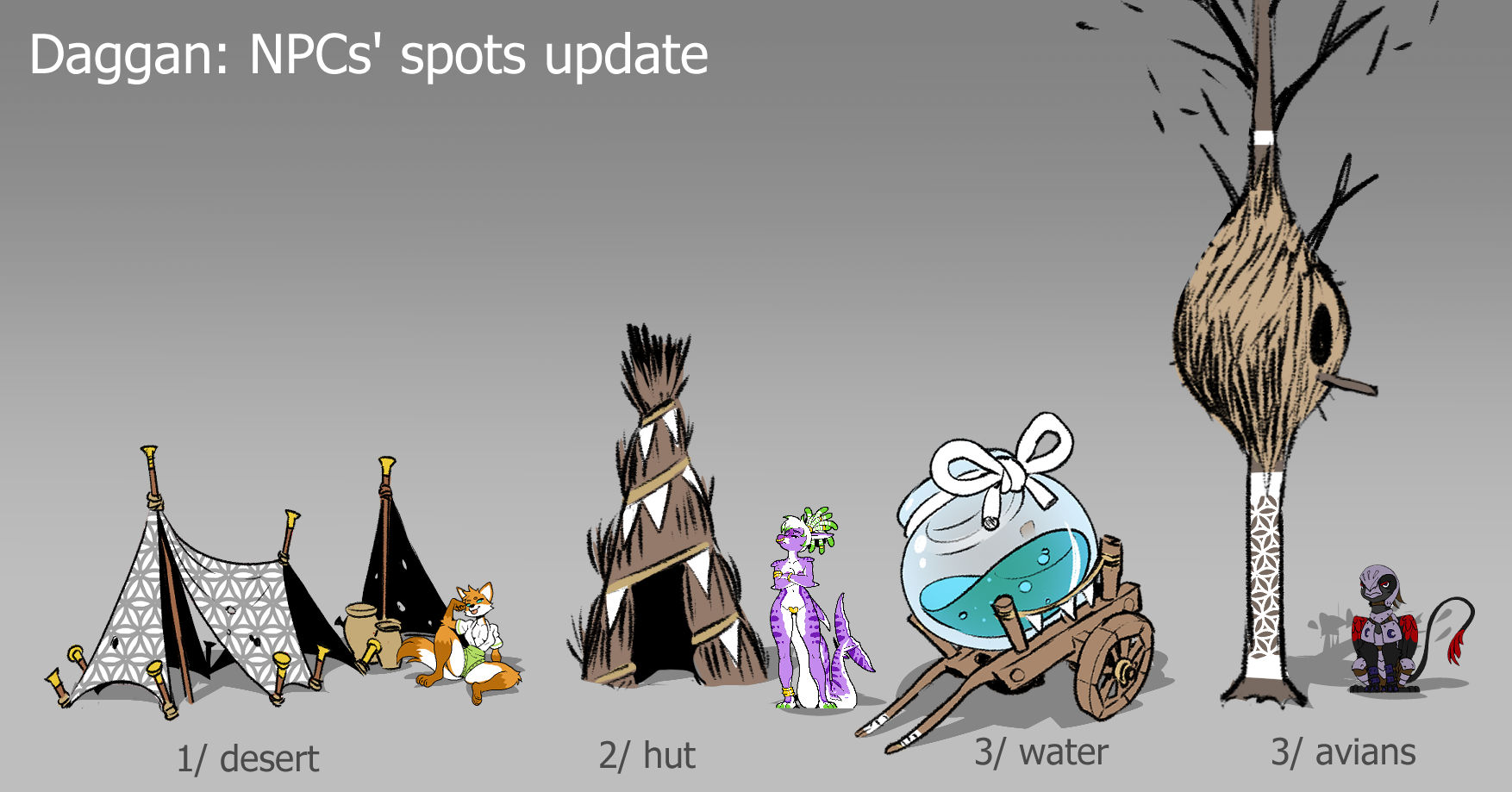 Comments
Log in with itch.io to leave a comment.
Love the 'candlebolds.' Elegant and mysterious.

This game is coming along nicely and I look forward to the updates. One thing that would make the game better if the font was bigger.
I plan to replace as much as I can with icons, too much text is tedious to read so I'll do my best UwU
out of the 3 bosses, 1 has to be my favorite. I really like the progression of it turning into a skeleton as it takes damage. Also the duck lol X3
oh genial la verdead estaba mirando por el twiter sobre nuevas cosas del juego XD
los diseños están geniales especialmente el primer jefe y que varíe su apariencia según su estado de salud me parece un buen detallé .
el segundo esta interesante parece una especie de espíritu solo le faltaría que atravesara estructuras lo cual creo que en parte lo aria muy amenazante y tal ves molesto en ese caso hipotético.
el tercero la verdad me da algo de miedito XD, normalmente metiendo en un hipotético caso de rol y esas cosas claro, en el que tu estar en una situación en un mundo ficticio en tal caso habiendo distintas especies entre otras ya sabes furries por hay y tal ves siendo uno en el(en mi caso seria este) debido a la variedad de especies y toda la cosa el miedo a a ver algo se reduciría de manera considerables XD(es decir incluso podrías tener de vecino no se ponle tu a una tarántula antropomórfica o algo del tipo y ser lo mas normal del mundo) pero que un loco se acerque a mi con su cabeza en un palo me aria salir volado del sitio XD.
a mi no me engañas ese pato maquina seguro como matarte xD.
a una ultima cosita podría haber algún comando a futuro que evite que tus aliado derriben las casas de los npcs, me a pasado que en ocasiones que por un descuido mientras estaba en su mini juego un aliado le derivar su hogar y este desaparece u.u.
disculpa por tanto escribir es medio normal de mi parte eso chao y que tengas un buen día,tarde o noche .
Gracias por sus increíbles comentarios.
Definitivamente es la noche y aún estoy cazando los problemas y bugs del juego XD ¡Haré algo para que los aliados no destruyan las cabañas! Estoy de acuerdo en que no es muy educado :O
Al final habrá una forma de hacerse amigo de este miniboss en el futuro, será genial tener un monstruo gigante y sexy en la aldea X'D
¡Gracias de nuevo por tu comentario, eres increíble!