Spooky pics
Game made for the Mini Jam 55: Stealth. If you like it, leave a comment or a rate <3

DESCRIPTION

Recruit investigators and install cameras all over the map to find the ghost.

CONTROLS
Hold left click+drag : move camera
Scroll wheel: zoom in/out
Left click on the name: select character
Right click on the ground: move character
MISSING
2 levels (with higher difficulty)
option menu (quality, music, etc)
more infos in the tutorial
haunted objects (flying books and stuff)
more credits: Patreon, featurings, etc
my mental health
Comments
Log in with itch.io to leave a comment.
It has become my favourite game. Make more like this.
Thank you ! What exactly do you like in the game? :D If I did something right I want to know it if possible :3

It is like one of those games where you have to set traps for some enimes to get caught. I like that aspect of the game specially the fact that it is in story mode.
I would say that it's about setting the trap and person just to try to discover the abnomaly something that is elusive itself is pretty good concept like checkmatte said but this game really making discover the ghost really easy and the fact that the ghost stay on the same path doesn't really help much either. You could make the ghost goes through the wall teleport into different room and add fog of war to help make the game more challenging.And the abnomaly doesn't really have to be a ghost either it can be other thing like a stalker. This got game potential but I dunno how to pull it off either. Would love to see more game like this and I'm going to support it in the future.
Hey, I can't get past the screen with Igazella.
Are you clicking Next ? That's strange !
I think so? It might just be user error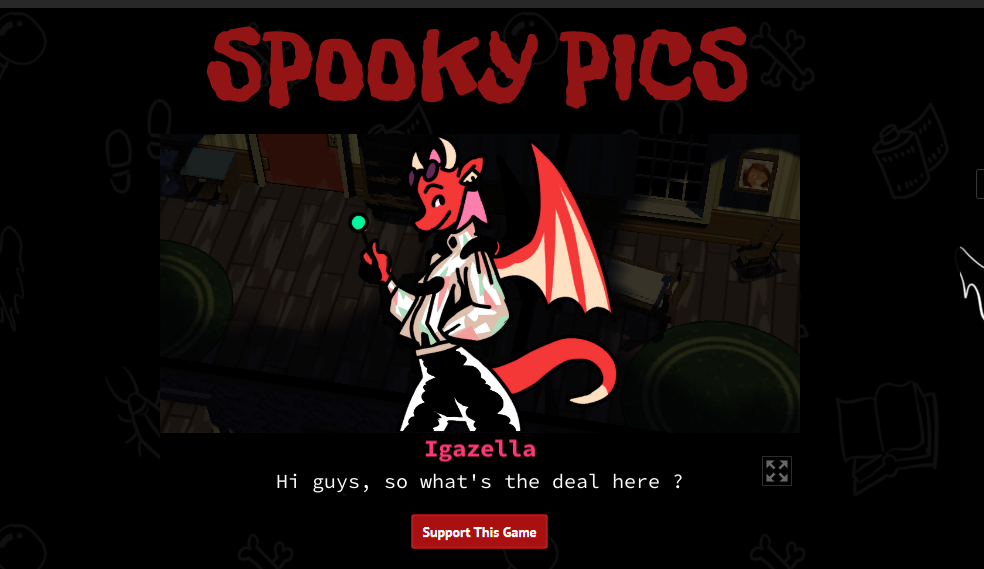 Also can't get past the start and honestly I don't see a "Next" button anywhere. Switching it to fullscreen shows all the buttons that are hidden though so obviously the size of the window isnt working correctly with itch.io and all that stuff is cut off completely playing from the tab itself.

going fullscreen helped for me